Introduction
Capsule shells comparison - Which capsule is best?
Dietary supplements are mostly offered in capsule form. Why is that? Is it necessary? And which capsule shells are the highest quality?

HPMC, pullulan, gelatine - the choice of capsule shells is diverse and confusing. We help you through the jungle of nutritional supplements and enlighten you.
Table of Contents:
• Why is it necessary to have capsule shells?
• What capsule shells are available?
• Gelatine - Still a possibility?
• What is HPMC?
• What is Pullulan?
• Which capsule shell is the best?
• Alternatives to swallowing capsules
• Wowtamins for your kids

Why is it necessary to have capsule shells?
At first, capsule shells seem like ballast that is of no use. Why do many dietary supplement manufacturers use capsules at all?
The reason is relatively simple. The active ingredients contained in them are often very sensitive to air and stomach acid. A large part of the content would not reach your cells without a capsule. Either the active ingredient, as is often the case with B vitamins, would already oxidize in the package and become less effective or a part would be decomposed in the stomach. Therefore, most of our products are capsule products.

Also in the choice of capsule shell, we have extensively researched the possible options before deciding on one. What different capsule shells are there now and which is the best choice?
What capsule shells are available?
There are 3 major capsule shell variants: Gelatin (from beef, pork or fish), HPMC or Pullulan.
One of the most classic options is the gelatin capsule. For all vegetarians or vegans they are of course not an option. This is where HPMC and Pullulan come into play.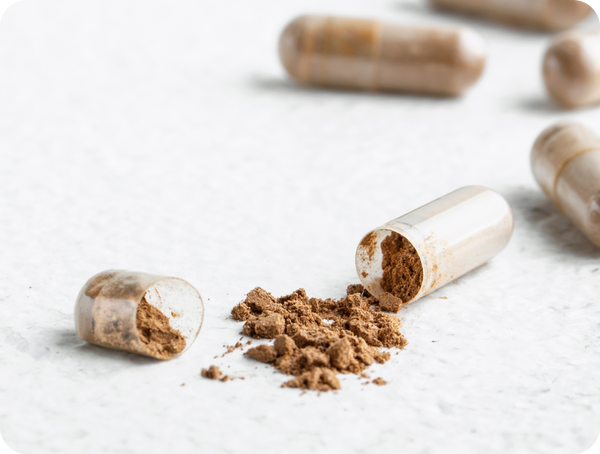 Gelatine - Still a possibility?
The classic, gelatin, has good statistics in terms of oxygen barrier. Gelatine is obtained from beef, pork or sometimes fish. The protein collagen is chemically extracted and dried in a complex process. This complex as well as chemical production process makes gelatine increasingly unattractive for us.

In addition, there is the environmental aspect, the animal suffering and the exclusion of a large target group who do without meat.
A few of our non-vegan products currently still contain gelatin. For example, Omega PL, which contains krill oil (a type of fish/sea animal), would not be vegan anyway. However, we are striving to gradually convert all our products to vegan capsule shells and thus take a step in the right direction. There are two alternatives available here: HPMC or Pullulan.
What is HPMC?
HPMC means hydroxypropylmethylcellulose. This substance is indigestible for humans, passes through the digestive tract and is then excreted unchanged. HPMC is produced from the plant substance cellulose by chemically changing the cellulose at very high temperatures and under the influence of caustic soda. This makes the production process very complicated and not necessarily harmless. In fact, harmful substances such as chloromethane gas or propylene oxide are often used to extract HPMC. That doesn't sound very natural, does it?

It also goes further: HPMC capsules unfortunately do not have as good an oxygen barrier as gelatin capsules. This means that antioxidants and preservatives must be used to prevent the active ingredients from oxidizing and becoming less effective. Classic HPMC capsules contain PEG's, which are polyethylene glycols that are potentially harmful to health and have an increased allergic potential.

Our goal of being as close to nature as possible is difficult to reconcile with HPMC capsule shells. Therefore, we also decided against this variant.
What is Pullulan?
We come to the last option: pullulan. These capsule shells are created by fermentation of natural maltotriose. This is a multiple sugar. For humans, pullulan is indigestible, just like HPMC, so it simply passes through the gastrointestinal tract and is subsequently excreted.
Unlike gelatin and HPMC, this capsule shell is the most natural option. Fermentation with the natural yeast Aureobasidium pullulans is otherwise only done with purified water. Thus, no great chemicals are involved.

Pullulan capsules also have a good oxygen barrier, which is even up to 250 times better than HPMC and 9 times better than gelatin[1]. Thus, the contained ingredients do not oxidize as much and are effective and durable for longer.

Pullulan is also biodegradable, allergen-free, non-GMO and tasteless.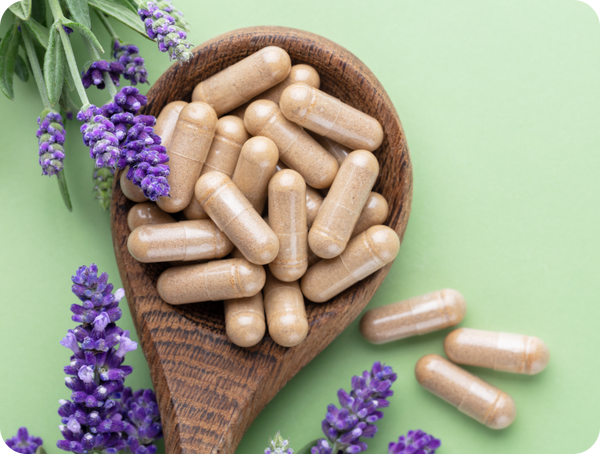 Which capsule shell is the best?
Our decision is clear: Pullulan shows good tolerability, a low allergy potential, is natural, vegan and in addition the capsule shell forms a good oxygen barrier. In contrast to HPMC capsules, pullulan capsules are the better alternative to gelatin capsules for us.

Of course, not everyone can rely purely on capsules. Especially children or people who take a lot of products want a way to get by without the bulk of capsules. What are the options here?
Our alternatives to capsules
More Articles
New blog articles appear regularly in our blog area, which may also be of interest to you.

Whether micronutrients, deficiency symptoms or nutrition - you will find what you are looking for with us.

Have a look!
Welche Nahrungsergänzungsmittel sind die besten – Komplexprodukte oder Monopräparate?
Knowledge blog
Der Markt für Nahrungsergänzungsmittel ist unglaublich vielfältig und unübersichtlich. Welche Produkte für einen selbst richtig sind, ist oftmals schwer einzuschätzen. Das Angebot reicht von Produkten mit einem einzelnen Inhaltsstoff bis zu Produkten mit 40 Wirkstoffen. Es reicht von Produkten für 3 € bis zu Produkten für 300 €. Die Unterschiede in Inhaltsstoffen, die Versprechungen auf der Packung und das Preis-Leistungs-Verhältnis - all diese Punkte sind relevant beim Kauf von Nahrungsergänzungsmitteln. Wir wollen dir ein wenig Aufklärung bieten, wenn es um das Thema Komplexprodukte oder Monopräparate geht und erklären, wie wir uns positionieren.
read article
9 Tipps, wie du Zucker im Alltag vermeiden kannst
Knowledge blog
Merkst du, wie dein Zuckerkonsum angestiegen ist? Fühlst du dich nach dem Essen schlapp, besonders wenn es eine große "ungesunde" Mahlzeit war? Möchtest du deinen Zuckerkonsum reduzieren und wieder mehr Energie im Alltag haben? Mit diesem Blogartikel wollen wir dir helfen, deinen Zuckerkonsum im Alltag zu reduzieren.
read article
Bibliography
[1]: http://www.parmentier.de/gpfneu/&shyBrochure_Pullulan_Capsules.pdf