German men's and women's national field hockey teams
The German national field hockey teams have stood for success for many years. With a total of 4 world championship titles, 10 European championship titles and 5 Olympic gold medals, Germany is one of the most successful field hockey nations in the world.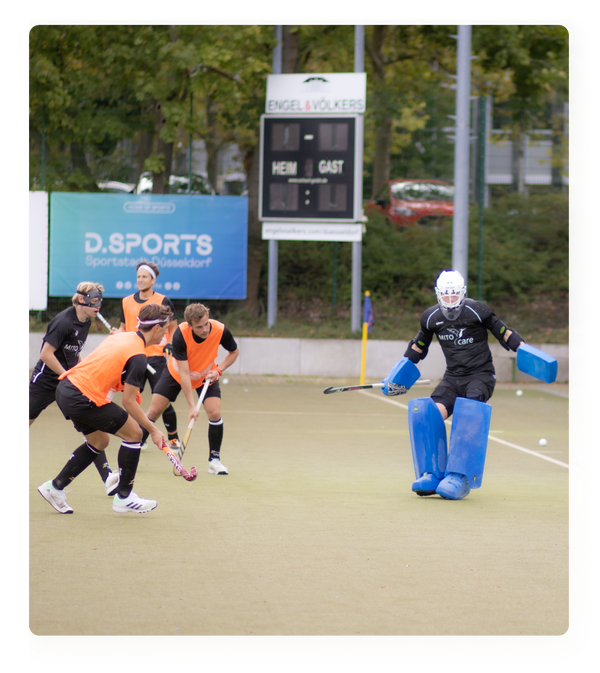 With us on the way to Paris 2024
After the successful cooperation between the German Hockey Federation (DHB) and MITOcare at the U21 Hockey World Championship 2021, we are now also cooperating with the German women's and men's national teams. We accompany the teams with our know-how in the preparation for the big goal, the Olympic Games 2024 in Paris.
"Due to the constant high stress in training and competition, our athlete:s have a very high demand for micronutrients. MITOcare supports the nutrient base and thus provides the basis for optimizing the metabolism for reparation and rehabilitation between the stress phases."
DHB sports director Dr. Christoph Menke-Salz
DHB-Herren sind Weltmeister
Wieder einmal beweist der Hockeysport, dass es zurecht die erfolgreichste Sportart in Deutschland ist. Was Fußball und Handball in diesem Winter nicht schafften, gelingt den deutschen Hockeyherren in Indien, dem Ursprungsland der Sportart.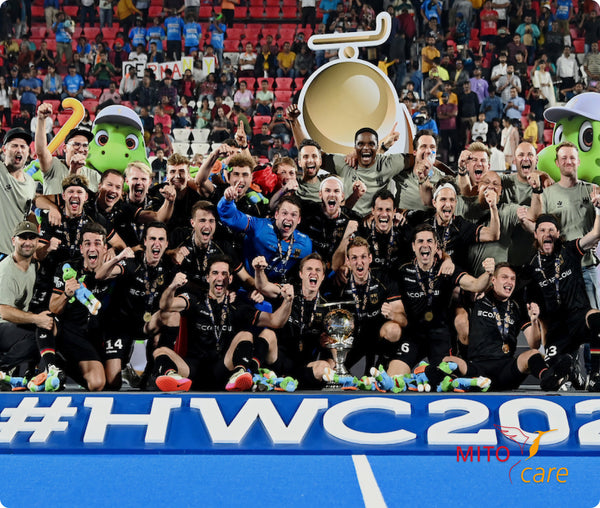 Nach 17 Jahren ohne Titelgewinn
Mit MITOcare zum Weltmeistertitel
Lange musste sich Hockey-Deutschland auf diesen Moment gedulden. Aber seit Januar diesen Jahres darf sich die Deutsche Herrennationalmannschaft Weltmeister nennen. In einem packenden Finale konnte sich schließlich Deutschland im Penalty Shootout gegen den amtierenden Weltmeister und Olympiasieger durchsetzen.

Lange sah es nicht danach aus, als würde das deutsche Herrenteam die Trophäe mit nach Hause bringen. In den entscheidenen K.O.-Spielen lag Deutschland oftmals zurück und konnte durch enormen Teamgeist und einen großen Siegeswillen das Spiel immer wieder drehen. Doch auch die Supplementierung mit MITOcare Produkten spielte eine entscheidende Rolle.
"Positive Effekte haben wir auf jeden Fall gespürt, wie das bei der Regeneration so ist. Also die verschiedenen Regenerationsmaßnahmen, wo die Supplementierung natürlich auf jeden Fall dazugehört. Und ich glaube, das war natürlich auch ein Grund, warum wir in jedes Spiel wieder mit 100% Leistungsfähigkeit reingehen konnte [...]."
DHB-Mannschaftsarzt Philip Ibe
Together with the DHB and team doctors, we make regular laboratory checks of metabolic parameters, evaluate injury figures and advise on the management of training and competition loads. And of course we supply the players with our MITOcare products.
DHB-Spieler, die auf MITOcare vertrauen