Holistically healthy through intelligent movement
When you learn to move your body again in a way that is in your nature, numerous symptoms will dissolve and vitality and life energy will unfold. It is never too late to start!

Imagine if with just 5 to 12 minutes a day you could stimulate your brain, reduce pain and physical and emotional stress, optimize your lymphatic system, intestines, circulatory system, organs, hormones, muscles, fascia, joints and ligaments? You get that chance right here, right now, in the form of selected mobility routines based on the latest scientific and neurological findings. It will only cost you 5 to 12 minutes a day to be able to move easily and freely again.

All effects are achieved through movement along the neuromotor development. This is nature's perfect training program, which you can now use again. Learn to move your body completely, thus releasing blockages and establishing your flow! Such a movement routine should be part of your daily body care. Like brushing your teeth: A non-negotiable practice for feeling good in the here and now, and thus a guarantee for lifelong health in your life.

In our course you will learn compact movement routines that promote all aspects of your health and vitality.
Partner project of Think Flow Grow and MITOcare
Together with Tim Böttner from Think Flow Grow, we developed our first digital masterclass for end clients. "Back to Natural Mobility" is suitable for every person and promotes the natural mobility of your body.

Info about the course instructor: Tim Böttner
Tim Böttner is a holistic health, fitness and lifestyle coach. He is a sports scientist and engineer and has completed dozens of national and international education and training courses in training, therapy, coaching and nutrition. With Think Flow Grow, he combines modern science and practical experience with the wisdom of nature and alternative traditions to create a holistic, cause-oriented and integrative approach.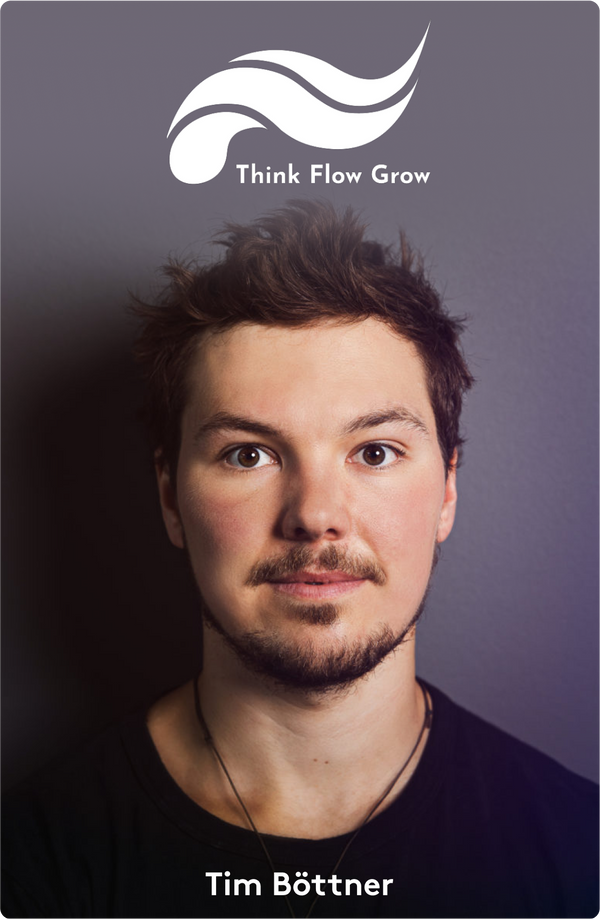 MITO Masterclass - Light Course
With the Light Course you start your journey back to natural mobility.
We have designed the Light Course as a trial version. You will get 8 compact mobility routines to easily follow in 5 to 15 minutes, which will keep your body young and flexible and promote your vitality.

We recommend the Complete Course because in addition to 18 routines, you will learn and experience valuable background about your body, as well as integrate healthy movement into your everyday life and work.

Course Content Light Course:
• Welcome: Benefits of the course
• Mobility basics: 1 course video
• Mobility routines: 8 course videos

More details can be found on the product details page of the Masterclass
MITO Masterclass - Complete Course
Through the course you will become an expert for your body again.
In the Complete Course, you will learn valuable basics about how your body and movement really work, in addition to many other routines with different focuses, so that you understand your body logic. You will also learn how to integrate healthy movement into your everyday life and work. Through the course you will become expert:in for your body again and create your holistic moving lifestyle.

Core Idea & Course Content Complete Course:
• Welcome: 2 course videos
• Mobility foundation: 11 course videos
Comprehensive introduction to your body logic. Understand and learn your body's natural movement intelligence - through some clear, compact and valuable movement and mobility basics.
• Mobility Routines: 16 Course Videos
Simple follow along routines for every day, every place and every body in 5 to 15 minutes.
• Mobility in everyday life: 8 course videos
Integrating acquired mobility into your daily life and job to maintain mobility for a lifetime. • After the course, you'll have the ability to create your own customized mobility routines because you know your body's needs
• Incl. accompanying workbook

More details can be found on the product details page of the Masterclass
This masterclass helps you rediscover your natural movement intelligence:
Become and stay agile, mobile, and strong, no matter what your age
Learn proper breathing
Improve your stress management
Finally learn a movement routine and establish it as a habit
This is what the Complete Course offers you in addition:
Trust your body again and improve your body awareness
Integrate healthy movement habits into your daily and professional life
Understand your body logic so that you become the expert on your body
Create your own exercise routine because you know your needs
Complete Course - Mobility Routines
The mobility routines will help you
• Improve your posture
• Move more easily and smoothly
• Improve your joint and spine health
• Reduce pain
• Reduce physical and emotional stress
• Improve body awareness and mindfulness
• Optimize brain and work more productively
• Improve balance
• Improve eyesight and vision
• Support lymphatic system and detoxification
• Regulate the intestines, circulatory system, organs and hormones
Back to natural flexibility
Who are the routines for?
If you have a body, the routines are for you. Seriously, movement is based on basic natural principles that are the same for all people. The routines are based on movement principles on the model of motor development.

If you can answer "yes" to the adjacent questions, this course is for you.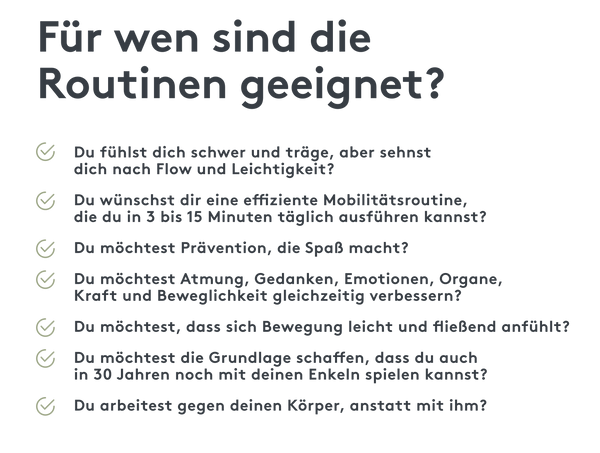 For professional users
Are you a therapist, doctor, trainer, coach, physician and do you work with people?
As a specialist you have your individual area of expertise. You do not only influence one aspect, but always the whole person. All systems in the body interact with each other and influence each other.

Our body has evolved with and for movement. I believe that a basic and conscious exercise routine improves all aspects of physical and mental health. This positively influences every other therapeutic intervention.

The course is designed so that the routines can be given to your clients to do at home. On the one hand, the body becomes more mobile and agile, but correct breathing and regulation of the nervous system are also learned.

How can different areas benefit from the routines? A few examples:

• Nutrition and supplementation: a mobile body allows blood and lymph to circulate better, so nutrients are better absorbed and end products removed. Proper breathing and movement also stimulate the intestines and digestion and elimination.

• Organ Systems and Hormones: Healthy exercise stimulates and balances all organ systems and consequently normalizes hormones.

• Injuries, limitations and muscular dysfunctions: Once acute problems, such as injuries, are rehabilitated, corrections must be integrated into natural movement patterns so that natural movement competence can be restored.

• Stress-correlated symptoms and self-regulation: the basis of mobility routines is mindful breathing, which is maintained during movements. This reduces mental and physical stress. The ability to regulate stress can be transferred to other situations in life.

• Basic movement patterns: movement in everyday life, sports and training are based on basic movement patterns acquired during mobility routines. As a result, "higher" forms of movement such as jumping, sprinting, or throwing can be performed more efficiently, allowing for more efficient use of time in training, increased performance, and prevention of injury.

It is my wish that you, as an expert, provide your clients with these mobility routines so that each form of therapy works better and we can help people holistically and causally.
FAQs about the course
You still have open questions?
Feel free to check out our FAQ section.
Who is this course for?
If you want to experience joy and ease together with your body again, this is the class for you. The routines are suitable for all ages and fitness levels. All you need is some space on the floor, a smartphone, tablet or computer and a willingness to do something for yourself.
Is the Light class enough?
We have designed the LIGHT course as a trial version. This contains 8 mobility routines to easily replicate. We recommend the COMPLETE version because in addition to 18 routines, you will learn and experience valuable background about your body, as well as integrate healthy movement into your everyday life and work. The COMPLETE course includes 39 videos, plus downloadable documents that you can access for life via app or browser. No matter where or when. The course will become your faithful companion.
What do I need for the routines?
You don't need any equipment or tools. For most routines, you will need some space on the floor. A mat or rug is useful. To access the course, you will need a browser on your computer or an app for your smartphone or tablet.
How long do I have access to the course?
After purchasing the course, you have unlimited access to the content. You will receive an email with exclusive access to the Elopage tool - all course content will then be available for you and can be accessed online at any time.
Is the course also suitable for older people?
Yes, absolutely. It's never too late to make your body young again. I've had 75-year-old people in my workshops who have had many aha moments with their bodies. Of course, as you get older, you need a little more patience for the body to adjust - but you usually have more patience as you get older too 😉 .
Do I need previous experience?
No. Since you have a body and live in it, you are virtually already an expert 😉.
How long is the course and can I take the course at my own pace?
You can take the course at your own pace and in fact you should, as everyone's body and lifestyle are different. Allow one to two hours for the introductory videos. You can do the routines in the second part daily or a few times a week. The course has no "duration" because you can and should do the routines over and over again. But my goal is that you get to know your body's logic, understand the idea behind the routines, and so eventually you won't need the course anymore.
Who are the routines not suitable for?
If you have acute injury, talk to your therapist, doctor or trainer first.