Principle Causa Logica | Innovative knowledge derived from micronutrient medicine
Innovative knowledge derived from micronutrient medicine
Orthomolecular medicine includes not only the classic vitamins and minerals, but also secondary plant substances, essential fatty acids, amino acids and enzymes. Our work is based on research and diagnostics. In addition, we have many years of laboratory-documented, practical therapeutic experience. Our complex and high-quality nutritional supplements match synergistically. We do rely on valuable substances from nature and avoid unnecessary additives.
Product development together with Physicians & Experts
High nutrient content with synergistic effect
Mediation of the latest & scientific findings
Premium products without unnecessary additives and fillers
Every human is unique
Do you pay attention to healthy nutrition, exercise and want to provide your body with ideal nutrients? Are you an athlete and do you want to get the most out of your exercise? Is your attention on some particular subject, or do you want to improve your health? We look at people and their individual needs.
Quality & Trust
Our claim & principles
For the sake of your health, mainly pure natural substances without synthetic or artificial additives are used in our products. Physicians, natural scientists and experts work daily on further developing and improving our natural substance preparations. The products are 80% vegetarian and more than half are already vegan. Our production sites are located in Germany, Austria and Switzerland, and meet the highest quality standards. Gentle processing ensures our raw materials retain their valuable properties.
MITO Circle of Professionals
Knowledge sharing for professionals
In our MITO Circle of Experts, we offer an exclusive platform for colleagues to exchange information as well as an academy that regularly imparts exclusive technical knowledge. As a professional, you can apply this know-how in your treatments. Register now and benefit from our unique expertise in alternative medicine, micronutrient medicine and epigenetics.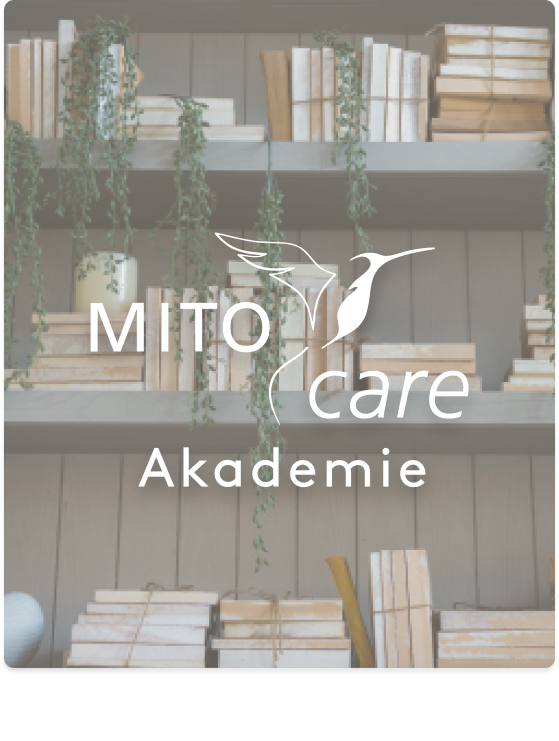 Follow us on Instagram
@mitocare