mito functional nutrition | functional drinks
Your daily refreshment
With the brand mito functional nutrition we cover, in addition to our dietary supplements, also functional nutrition. Due to our current lifestyle, stress and lack of time, we often find it hard in our day-to-day life to provide our body with the ideal nutrition. Our functional** drink presents a good alternative to integrate more vitality and cellular performance1,2 into your everyday life.

1 One can of mito drink contains vitamins vitamin C, thiamine, vitamin B12, biotin and pantothenic acid. These contribute to a normal energy metabolism.**
2 One can of mito drink contains pantothenic acid. This contributes to normal mental performance.
Complexe Mixture
A clever composition of vitamins, minerals and plant substances for cells and mitochondria.
Research & Development
Product development based on studies, according to latest findings in nutritional science.
Sustainable packaging
Protected from light, our high quality products come in BPA-free aluminum cans. They can be recycled in a 100% environmentally friendly way using the deposit system.
Functional Nutrition
You drink - we care. Intelligent supplementation with our functional** drink
mito drink essence | effective & synergistic ingredients
Complex blends
like in nature
Tropical fruits like Açaí, Aronia and Mangosteen meet green tea and a refreshing ginger note. The complex vitamin blend is functionally complemented by coenzyme Q10 and L-carnitine. The high-quality ingredients are specially coordinated and can provide you important micronutrients.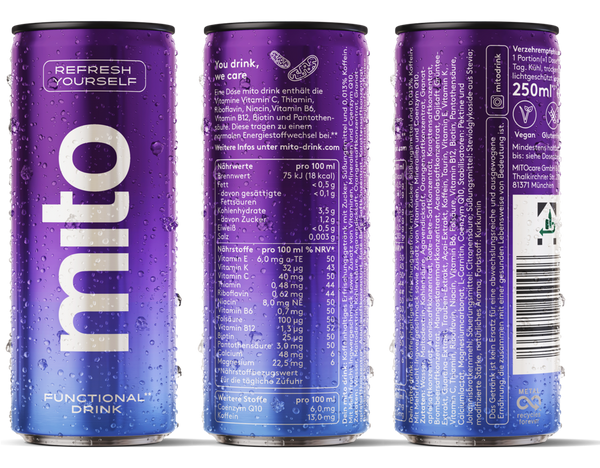 buy our drink
With one can you can cover your daily requirement of important, essential vitamins - and simply by drinking it.
Refresh your mitochondria1,2
90% of your energy comes from healthy mitochondria
Mitochondria produce the energy your cells, organs and tissues need to function effectively. In a day, they produce about 40 kg of energy in the human body in the form of ATP. The activating effect of the drink on mitochondria was confirmed by a study in an independent laboratory*.
*You can find the study here.

1 One can of mito drink contains vitamins vitamin C, thiamine, vitamin B12, biotin and pantothenic acid. These contribute to a normal energy metabolism.**
2 One can of mito drink contains pantothenic acid. This contributes to normal mental performance.
For whom are functional food drinks suitable?
Professional athletes & hobby sportsmen
Physically or mentally stressed people (stress)
Health conscious & active people
Nutrition-conscious people, with increased nutrient requirements
Sustainability is important to us
We examine every step we take in relation to our ecological footprint
and rely on innovative measures in the process.
Sustainable cans
Lightweight and thin material has low weight in transportation and less power consumption in cooling, thus providing less greenhouse gases.
Endless recycling cycle
The recycling process involves no loss of substance or quality - compared to PET and significantly less energy consumption than for used glass.
DHL GoGreen
We send our packages with the DHL service "GoGreen". This way we support climate projects worldwide.
Sustainable outer packaging
Our shipping cartons and insulation are made from up to 100% renewable, recyclable raw materials.
"Finally, a healthy drink with an effect! I treated myself and bought 24 cans and drank them constantly every day. I feel fitter than from drinking coffee and definitely notice that my vitamin balance is right again. The drinks make it easier for me to balance my work stress and my workout.
Tabea (via review.io)
"I am a player in the ELF for the Centurions and for me it is now a must to drink 1 can of mito before the game. You feel fitter and can play better."
Players of the Centurions Cologne, ELF (via review.io)
"The drink tastes very good, convinces with the mentioned properties and does not increase my blood sugar level."
Rolf Nothacker (via review.io)
"Great taste. No 'low point'. Gives wonderful energy and is also keto-friendly!"
Franziska Kühn (via review.io)
"Personally, I noticed directly after the first can how the body really "soaks up" the ingredients - it tastes great and provides sustainable energy".
Christian Gomell (via review.io)
"World class drink, I can only recommend it. Keeps me fit and healthy."
Dominik Huisman (via review.io)
Follow us on instagram
@mitodrink
FAQs about mito functional nutrition
How can we help you?
You have questions about mito drink, the production or our philosophy? Please have a look at our FAQ section.
Is the mito drink an energy drink?
Not in the classical sense - it is a functional** drink for your cells that can cover your vitamin balance with important vitamins and minerals. Natural ingredients like green tea and guarana naturally contain caffeine to support your focus, alertness & performance naturally. Our recommended daily dose is one can. The mito drink unfolds its activating effect1,2 at any time of day. We recommend drinking the drink before sports, during your lunch break or at work.

1. Contributes to normal energy metabolism (biotin, niacin, pantothenic acid, riboflavin, thiamin, vitamin B6, vitamin B12, vitamin C, calcium, magnesium).**



Is the mito drink suitable for my diet?
Our mito drink is rich in vitamins and minerals and is therefore a great addition to your diet - and with 3g of natural sweetener, inform of agave syrup and stevia. In addition, our drink is vegan and has a good bioavailability.
Is the mito drink vegan and organic?
Our mito drink is vegan and at the same time also free from the most known 14 allergens according to Regulation (EU) No. 1169 / 2011, Annex II. These include: Gluten, crustaceans, egg, fish, peanuts, soybeans, milk, nuts e.g. almonds, hazelnuts, walnuts etc., celery, mustard, sesame seeds, sulfur dioxide and sulphites of more than 10mg/kg, lipins and molluscs.
Can the aluminum in the cans pass into the contents of the beverage?
Absolutely not. The can is coated on the inside so that the contents do not come into contact with the metal. The can optimally protects the contents from the effects of light and possible germs.
Can I take the mito drink together with MITOcare products?
The mito drink can be combined with MITOcare products without any problems. Please note that this is not intended to replace meals or a healthy diet in general.
Do I need to refrigerate the mito drink?
The mito drink does not require refrigeration. However, to give you the absolute freshness kick, we recommend chilling the mito drink before consumption.
Why is the mito drink always right for you?
mito drink is not an ordinary drink. Based on scientific
studies
, doctors have developed a rich, complex and holistic formula to provide your body with essential vitamins and minerals. You can cover your daily requirement of vitamins with one can of mito drink.
Why are cans truly sustainable?
Our can is made of 100% recyclable aluminum. The preparation of the cans requires significantly less energy than the preparation of waste glass. Lightweight and thin material means more efficient transport and less weight and therefore less greenhouse gases and a very positive environmental balance. Fast cooling is easily possible - all other materials actually take much longer. This means significantly less power consumption. The recycling process is without loss of substance and quality - just very different from PET.
Why don't we use PET bottles?
Cans are much more hygienic to fill because they can be sterilized at higher temperatures compared to plastic. In addition, transparent material is unfavorable for light-sensitive vitamins. Especially vitamins B6, B12, vitamin C and E are very sensitive to light.
What does the term mito mean?
mito is short for mitochondria - the power plants of your cells. Why you should know the function of mitochondria - and how they can be supported by our mito drink - you will learn in our knowledge blog.
What is the mito drink essence?
The mito drink essence is a highly sensitive complex blend of various micronutrients developed with doctors.
.
What are mitochondria?
Mitochondria are the power plants of your cells. 90 percent of your body's energy comes from your mitochondria. In each cell there are 2000 to 12000 mitochondria as bean-shaped cell organelles. They generate the energy your cells, organs and tissues need to function effectively. In a day, they produce about 40 kg of energy in your body in the form of ATP. For more, check out our
blog post
.
Where is the mito drink produced?
The mito drink is produced and bottled in Germany.
What does the mito drink taste like?
For the unique taste of the mito drink, we use not only fruits and superfoods. Vegetables and herbs are also part of our recipe. This makes the drink taste neither too sweet nor too fruity - just very special. The fruity taste in combination with our tropical superfruits, meets a slight tingle of ginger and thus rounds off the taste experience.
What flavors do we use?
We use flavor caffeine in our recipe, the added caffeine is of natural origin. In addition, the mito drink contains natural ginger flavor.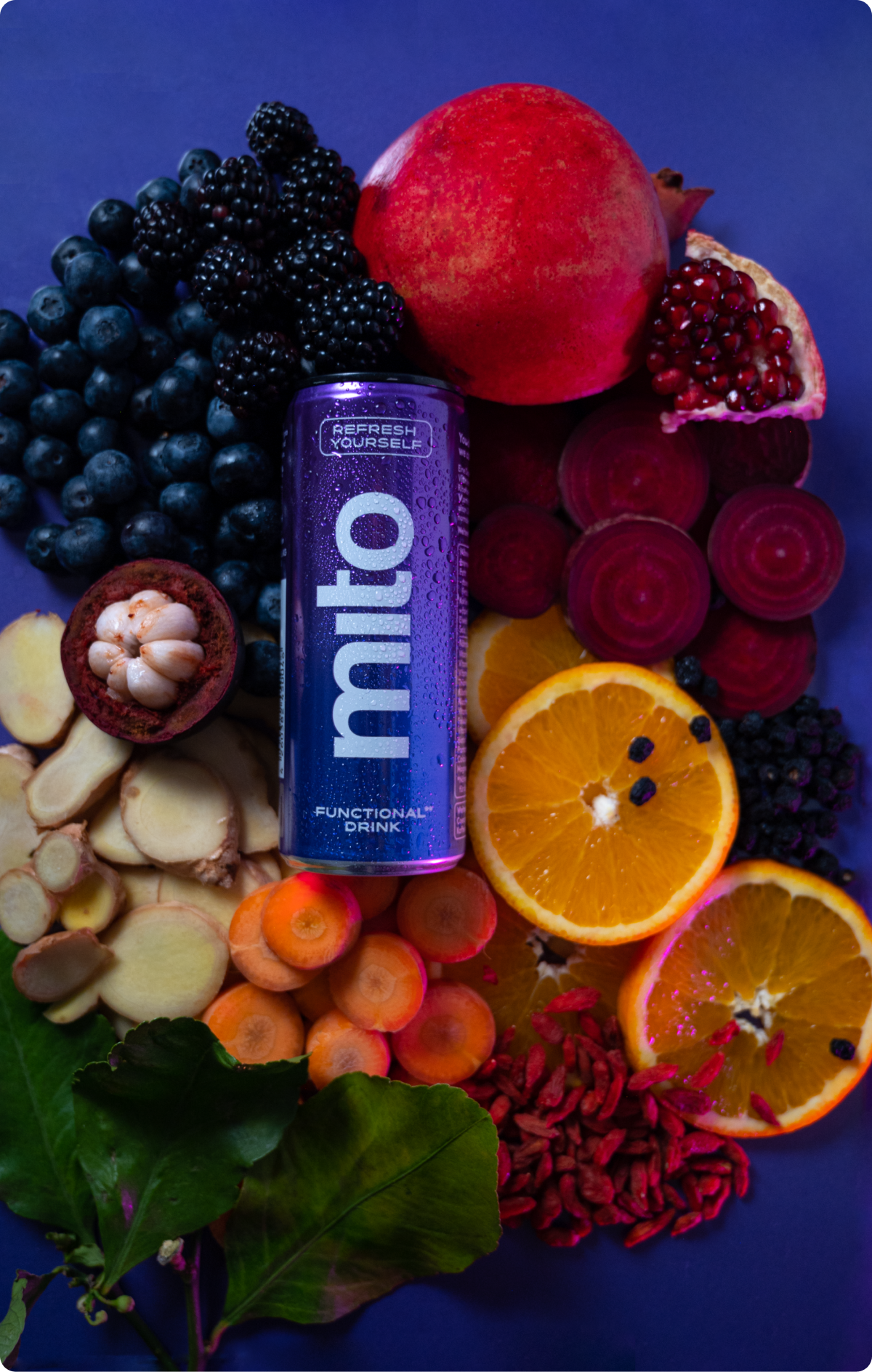 Contact Form
Are you interested in a cooperation with mito functional nutrition or would you like to include mito drink in your product range as a third-party seller? Send us your request via the contact form or to info@mito-drink.com. We will contact you as soon as possible.